Online Payments to PCC Using PayPal
To make an online payment to the Portland Camera Club, click the PayPal button at the bottom of this page. When you click the PayPal button, a secure web page will be displayed. Follow the onscreen instructions to make your payment.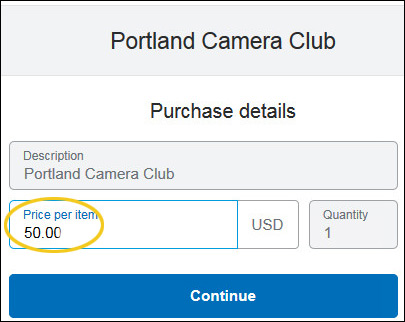 Enter the amount you are sending to the Portland Camera Club in the Price per item field, then click Continue.
Eddie Soloway Seminar:
Saturday April 27 all day session: $80 per person
Sunday April 28 small group session: $130 per person | Note: The Sunday small group session is full, but we are maintaining a waitlist. If you want to add your name to the waitlist, please send an email to the PCC Treasurer at treasurer@portlandcameraclub.org
Membership Dues:
Annual PCC membership dues, due by 1st meeting in November: $50.
Family memberships: first family member pays $50; each additional family member pays $25.
College student membership: $25.
High school student membership: free.
If you need to send an email message to the club treasurer, click here or copy/paste this email address: treasurer@portlandcameraclub.org